Your gifts to the Institute of Computing and Cybersystems help promote interdisciplinary research and education in the fields of cyber-physical systems, cybersecurity, data sciences, human-centered computing, and scalable architectures and systems for the benefit of Michigan Tech and society at large.
Giving Contact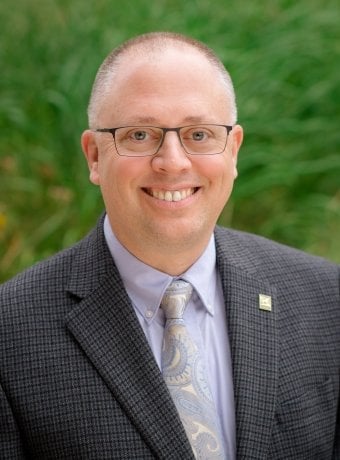 Jim Desrochers
Director for Corporate Relations
906-487-3461
Alumni House 301
What your gift could accomplish.
Endowed Professorships to attract and retain top talent and give those individuals freedom and time for scholarship and research.
Visiting Professors and Research Scientists to host expert scholars and augment and diversify teaching and research capabilities.
Graduate Fellowships to sustain a diverse body of smart, creative graduate students.
Undergraduate Research Fellowships to support and retain talented students with financial need, students from diverse backgrounds, and women and underrepresented students.
Seed Grants to stimulate and encourage opportunities for original research and provide students with valuable, hands-on experience.
Travel Funds and Honorariums for seminars and distinguished lecturers and to spark inspiration and bring fresh ideas to campus.
Outreach Support to recruit top undergraduate and graduate students through traditional and social media marketing, college fairs, campus visits, and other promotional activities.
Facilities and Equipment for top-notch learning and research equipment, software, and infrastructure.
Paul Williams '61: Research Seed Fund Gifts
This research was funded by ECE alumnus Paul Williams '61. Paul was also the benefactor of the Paul and Susan Williams Center for Computer Systems Research, located on the fifth floor of the Electrical Energy Resources Center. The 10,000-square-foot, high-performance computing center——the home of the ICC——was established to foster close collaboration among researchers across multiple disciplines at Michigan Tech.
Development of a Low-Cost Marine Mobile Networking Infrastructure
Underwater acoustic communication has been in use for decades, but primarily for military applications. In recent years, private sectors such as environmental monitoring, off-shore oil and gas exploration, and aquaculture have become interested in
its possibilities. Existing research to understand underwater acoustic communication networks relies on human-operated surface ships or cost-prohibitive autonomous underwater vehicles (AUV). And due to the cost barrier, academic research evaluation is often limited to computer simulations, constraining research innovation and practical applications. Recognizing a gap in the research, Zhaohui Wang and Nina Mahmoudian saw an opportunity to combine their areas of expertise: for Zhaohui, underwater acoustic communications, for Nina, low-cost marine robotics and AUVs.
Appropriating Everyday Surfaces for Tap Interaction
What if an everyday surface, like a table, could be transformed into a rich, interactive surface that can remotely operate things like computers, entertainment systems, and home appliances? That's what ICC members Keith Vertanen and Scott Kuhl, along with two student researchers, set out to do with a $50K William Seed Grant.