Kui Zhang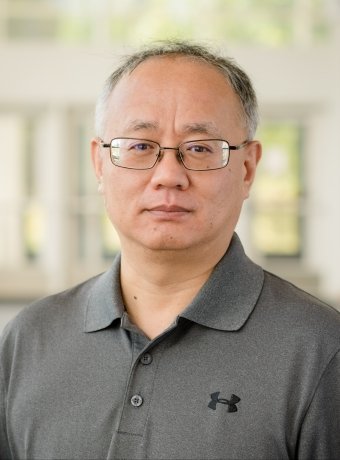 Dave House Endowed Professor, Mathematical Sciences
PhD, Probability and Statistics, Beijing University
BS, Probability and Statistics, Beijing University
Biography
Dr. Kui Zhang holds the Dave House Endowed Professorship in Statistics, Data Mining and Data Analytics at Michigan Tech. He obtained his PhD in probability and statistics from Beijing University in 1999 and joined the Department of Mathematical Sciences at Michigan Technological University as a full professor in August of 2015. Dr. Zhang did his postdoctoral training in statistical genetics in the Department of Epidemiology and Public Health at Yale University, School of Medicine, from 1999 to 2001 and in Program of Molecular and Computational Biology of Department of Biological Sciences at University of Southern California from 2001 to 2003. He was a faculty member in the Department of Biostatistics at the University of Alabama at Birmingham from 2003 to 2015. Dr. Zhang has published more than 80 papers in peer reviewed journals and his research is currently supported by NIH.
Dr. Zhang's methodological research interests focus on the development of novel statistical methods and efficient computational and bioinformatics tools to address scientific problems in biomedical fields, especially in statistical genetics and genomics. His research topics include developing new methods and designing novel algorithms for mapping complex disease genes with population and family data, developing statistical methods for haplotype analysis, developing methods for the analysis of next generation sequencing data, developing statistical methods for rare variant association, and developing methods for the analysis of gene expression including microarray and RNA-Seq data and other types of biological data.
Dr. Zhang's collaborative research interests are to apply powerful and innovative statistical and computational methods to address problems from genetic studies and other types of studies including but not limited to biomedical research. He has been actively involved in many applied studies during his research career. He has collaborated with scientists in their studies through three ways. First, he has been actively involved as a co-investigator in their grant applications. The duties include setting appropriate study designs, calculating sample sizes and power, adapting available methods and developing new methods for data analysis, and writing up statistical analysis. Second, he has provided the statistical support for their studies using available methods and software packages. Third, he has developed new methods for their studies when there is no available method or available methods cannot provide reliable results. Currently, Dr. Zhang is involved in several genetic and non-genetic studies, and he is actively seeking new collaborations with researchers at Michigan Tech.
Links of Interest
Areas of Expertise
Statistical Genetics and Genomics
Bioinformatics
Biostatistics
Applied Statistics
Cheng Gao, Qiuying Sha, Shuanglin Zhang, Kui Zhang. 2021. Testing an Optimally Weighted Combination of Variants with Multiple Traits Using Family Data. Genetic Epidemiology 4: 64-81. (PMID: 33047835)
Rana Aldrees, Xiaoqing Gao, Kui Zhang, Gene Siegal, Shi Wei. 2021. Validation of the revised 8th AJCC breast cancer clinical prognostic staging system: analysis of 5321 cases from a single institution. Modern Pathology 34: 291-299. (PMID: 32778677)
Wenping Deng, Kui Zhang, Cheng He, Sanzhen Liu, Hairong Wei. 2021. HB- PLS: A statistical method for identifying biological process or pathway regulators by integrating Huber loss and Berhu penalty with partial least squares regression. Forestry Research 1: 6.
Cheng Gao, Hairong Wei, Kui Zhang. 2021. LORSEN: Fast and Efficient eQTL Mapping with Low Rank Penalized Regression. Frontier in Genetics 12: 690926. (PMID: 34868194; PMCID: PMC8636089).
Fei Fei, Kui Zhang, Gene Siegal, Shi Wei. 2021. A simplified breast cancer prognostic score: comparison with the AJCC clinical prognostic staging system. Modern Pathology 34:2141-2147. (PMID: 3436452).
2021/10/01-2023/07/31
Michigan Department of Health and Human Services
Heldt, Caryn (PI)
Michigan Sequencing Academic Partnership for Public Health Innovation and Response
Role: Co-Investigator
2014/09/10-2017/06/30
R01 HG008115-02, National Human Genome Research Institute (NHGRI)
Zhang, Kui (PI)
Next-Generation Bioinformatics for Next-Generation Sequencing
Role:PI
2006/07/01-2012/06/30
R01 GM074913-05, National Institute of General Medical Sciences (NIGMS)
Zhang, Kui (PI)
Haplotype Analysis in Linkage Disequilibrium Mapping
To develop association methods based on haplotypes for mapping genes that are responsible for complex human diseases.
Role: PI
2007/09/27-2008/08/31
R13 HG004593-01, National Human Genome Research Institute (NHGRI)
Zhang, Kui (PI)
Haplotype analysis of population and pedigree data in association studies
To organize a scientific meeting to discuss the haplotype analysis in association studies.
Role: PI