Ashraf Saleem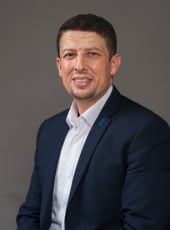 Assistant Professor, Applied Computing
Affiliated Faculty, Computational Science & Engineering
Ph.D., Mechatronics Engineering, DeMontfort University, UK, 2006
MSc., Mechatronics Engineering, DeMontfort University, UK, 2003
BSc., Electrical and Computer Engineering, Philadelphia University, Jordan, 2000
Biography
Dr. Ashraf received his Ph.D. and MSc. degrees in mechatronics engineering from DeMontfort University, UK, in 2006 and 2003, respectively, and his BSc. in electrical and computer engineering from Philadelphia University, Jordan, in 2000.
Dr. Saleem is leading the Robotics and Remote Sensing Lab (RRSL) at MTU focusing on the application of robotics systems and artificial intelligence in the field of remote sensing. With extensive experience in this domain, his research is primarily focused on addressing practical challenges, such as the detection of oil spills in the ocean, through the utilization of machine learning techniques and drone imagery. During his tenure at Sultan Qaboos University, Dr. Saleem successfully led several projects centered around the use of unmanned aerial vehicles (UAVs) for identifying oil spills in marine environments. Building upon this expertise, he is now leading a new initiative that involves designing experiments for acquiring metadata from UAVs/ROVs using remote sensing devices and applying cutting-edge machine learning algorithms for detecting invasive plants in freshwater. He has authored/co-authored over 65 publications and has been funded by several governmental agencies during his tenure at SQU, Oman.
Teaching Interests
Data Acquisition and Signal Processing
Senior Design
Mechatronics system design and integration
Modeling and simulation of complex systems
Sensors and actuators
Hydraulic and pneumatic systems
Control system design
Instrumentation and measurements
Research Interests
UAV-based Remote Sensing

Drone-based oil spill detection in Ocean

Artificial Intelligence Applications in Remote Sensing

Computer Vision and AI

Data acquisition and real-time control

Robotics system design and Integration

Control of Pneumatic Systems
Selected Journal Papers:
Al Maawali, W., Mesbah, M., Al Maashri, A. and Saleem, A., Design of intelligent thruster decision-making system for USVs. Ocean Engineering, 285, p.115431, 2023.
A. Saleem, S. Paheding, N. Rawashdeh, A. Awad and N. Kaur, "A Non-Reference Evaluation of Underwater Image Enhancement Methods Using a New Underwater Image Dataset," in IEEE Access, vol. 11, pp. 10412-10428, 2023, doi: 10.1109/ACCESS.2023.3240648.

Mesbah, Mostefa, Muhammad Shafiq, Ashraf Saleem, Hassan Yousef, and Hisham Soliman. "A data-driven controller for position tracking of a long-stroke piezoelectric actuator." Microsystem Technologies 29, no. 2 (2023): 211-221.

Soliman, H.M.; Saleem, A.; Bayoumi, E.H.E.; De Santis, M. Harmonic Distortion Reduction of Transformer-Less Grid-Connected Converters by Ellipsoidal-Based Robust Control. Energies 2023, 16, 1362. doi: 10.3390/en16031362

Mesbah, M., Shafiq, M., Saleem, A. et al. A data-driven controller for position tracking of a long-stroke piezoelectric actuator. Microsyst Technol 29, 211–221 (2023). doi: 10.1007/s00542-022-05407-4.

Ahmed Al Maashri, Ashraf Saleem, Hadj Bourdoucen, Omer Eldirdiry, Ahmed Al Ghadani, A novel drone-based system for accurate human temperature measurement and disease symptoms detection using thermography and AI, Remote Sensing Applications: Society and Environment, Volume 27, 100787, 2022.


Mohammed Salah and Ashraf Saleem, "Hysteresis compensation-based robust output feedback control for long-stroke piezoelectric actuators at high frequency", Sensors and Actuators: Physical A, V319 (112542) 2021.

Ashraf Saleem, Mostefa Mesbah, Mohammed Shafiq, "Feedback-feedforward control for high-speed trajectory tracking of an amplified piezoelectric actuator" Smart Mater. Struct. Volume 30, Number 2, 2020.

Hisham M Soliman, Ashraf Saleem, Ellipsoidal design of robust tracking controller for large-stroke piezoelectric actuators, Smart Materials and Structures, Volume 29, Number 7, 2020.

Ashraf Saleem, Ahmed Al Maashri, Muna A. Al-Rahbi, Medhat Awadallah and Hadj Bourdoucen, "Cooperative Cruise Controller For Homogeneous And Heterogeneous Vehicle Platoon System", International Journal of Automotive Technology, Vol. 20, No. 6, pp. 1131-1143, 2019.

Hassan A Yousef, Mohamed Hamdy, Ashraf Saleem, Kyrillos Nashed, Mustafa Mesbah, Mohammed Shafiq, "Enhanced L1 adaptive control for a benchmark piezoelectric-actuated system via fuzzy approximation", International Journal of Adaptive Control and Signal Processing, Vol 33, pp. 1329–1343, 2019.

Khurshid Alam, Ahmed Al-Ghaithi, Sujan Piya, Ashraf Saleem, "In-vitro experimental study of histopathology of bone in vibrational drilling", Medical Engineering & Physics, Vol 67, pp. 78-87, 2019.

Morteza Mohammadzaheri, Mohammadreza Emadi, Mojtaba Ghodsi, Ehsan Jamshidi, Issam Bahadur, Ashraf Saleem, Musaab Zarog, "A variable-resistance digital charge estimator for piezoelectric actuators: An alternative to maximise accuracy and curb voltage drop", Journal of Intelligent Material Systems and Structures, Vol. 30, No. 11, pp. 1699–1705, 2019.

Mohammed Shafiq, Ashraf Saleem, Mostefa Mesbah, "Model-free data driven control for trajectory tracking of an amplified piezoelectric actuator", Sensors and Actuators: Physical A, Vol. 279, pp. 27–35, 2018.

Ashraf Saleem, Hisham Soliman, Serein Al-Ratrout, Mostefa Mesbah, "Design of fractional order PID controller with application to induction motor drive", Turkish Journal of Electrical Engineering and Computer Science, Vol. 26, pp. 2768 – 2778 , 2018.


Selected Conference Papers:


Saleem, A., Awad, A., Paheding, S. and Marcarelli, A., Multi-class plant type detection in Great Lakes region using remotely operated vehicle and deep learning. In Pattern Recognition and Tracking XXXIV (Vol. 12527, pp. 34-40). SPIE, 2023.

A. A. Maashri, A. Al Maashri; J. Ghommam; A. Saleem; N. Nasiri; O. Eldirdiry; H. Bourdoucen; G. Al Rawas; A. Al-Kamzari; A. Ammari, "A Multi-Drone System for Oil Spill Detection: A Simulation and Emulation Platform," 2022 22nd International Conference on Control, Automation and Systems (ICCAS), Jeju, Korea, Republic of, 2022, pp. 397-402, doi: 10.23919/ICCAS55662.2022.10003840.

J. Rathbum, A. Sharky, P. Urunkar, A. Saleem and P. Hazaveh, "Developing a Climbing Assistive Exoskeleton*," 2023 Systems and Information Engineering Design Symposium (SIEDS), Charlottesville, VA, USA, 2023, pp. 102-107

Ashraf Saleem, Ahmed Al Maashri, Omer Eldirdiry, Jawhar Ghommam, Hadj Bourdoucen, Amran Al-Kamzari, Ghazi Al Rawas, Ahmed Ammari "Detection of Oil Spill Pollution in Seawater Using Drones: Simulation & Lab-based Experimental Study", 2021 IEEE International IOT, Electronics and Mechatronics Conference (IEMTRONICS), Canada, 2021.

Mohammad Salah, Ashraf Saleem, Backstepping Position Control of High Frequency Piezoelectric Actuator Used in Ultrasonically Assisted Manufacturing, 4th IEEE Electron Devices Technology & Manufacturing Conference (EDTM), Penang, Malaysia, 2020.

Ashraf Saleem, Khadija Al Jabri, Ahmed Al Maashri, Waleed Al Maawali, Mostafa Mesbah, Obstacle-Avoidance Algorithm Using Deep Learning Based on RGBD Images and Robot Orientation, 7th International Conference on Electrical and Electronics Engineering (ICEEE), Antalya, Turkey, 2020.

Ashraf Saleem, Musabah Al Hattali, Mohammed Shafiq, Issam Bahadur, "Precise Tracking Control for Piezoelectric Actuators using Feedforward/Feedback Learning-based Controller", 6th International Conference on Control, Decision and Information Technologies (CoDIT), Paris, France, April, 2019. (Outcome from grant IG/ENG/ECED/15/01)

Waleed Al Maawali, Ahmed Al Naabi, Majid Al Yaruubi, Ashraf Saleem, Ahmed Al Maashri, "Design and Implementation of an Unmanned Surface Vehicle for Oil Spill Handling", 1st IEEE International Conference on Unmanned Vehicle Systems-Oman (UVS), 5-7 Feb. 2019
Whirlpool - Refrigerator Door Gasket Verification Fixture
2021-12 to 2023-06
Whirlpool (United States) (Benton Harbor, Michigan, US)
GRANT_NUMBER: 2107033P1
USD 108,509