Earn Your Structural Engineering Certificate in Advanced Analysis from One of the Top-Ranked Engineering Schools.
Through their careful examination of complex structures, both large and small, structural engineers with a focus on advanced analysis ensure the safety of millions of individuals across the globe. Society relies on them to determine how buildings and infrastructure respond to effects from dead, living, and environmental loads.
Our advanced analysis certificate will help you develop advanced skills for creatively and holistically examining and designing structures for safety, durability, aesthetics, efficiency, and sustainability.
This certificate is designed for working professionals who want to advance their education at a top engineering college. With asynchronous classes and integrated experiential learning opportunities, you'll graduate from MTU with the experience and expertise to excel as an advanced structural engineering specialist. You'll be able to work in government, large engineering firms, or small organizations.
Our structural engineering faculty bring years of industry experience to the coursework, so you can master the tools and leadership skills to meet the high demands of today's modern world. From conducting advanced analysis in steel frame design to determining finite deformations, you'll develop and strengthen a wide skill set in advanced structural engineering.
Build a Solid Foundation for a Future Graduate Degree with an Advanced Structural Analysis Certificate.
When you earn a graduate certificate in advanced analysis from MTU, you make an investment not only in your career but also in your education. Completing this program will give you an advantage when applying to graduate school. That is, your advanced analysis courses can also count toward a future graduate degree, saving you both time and money.
Why Earn Your Advanced Analysis Graduate Certificate from MTU?
There are many reasons why Forbes includes Michigan Tech among the top 25 STEM colleges in the country. From the expertise of our faculty to the excellence of our online programs, MTU is globally recognized for standing out among other engineering schools.
Employers across the nation seek out MTU advanced structural engineering graduates to meet the demanding and complicated challenges of the twenty-first century engineering world.
Earning your structural engineering certificate online from MTU ensures that you receive the same superb educational experience as in-person students. In fact, we are ranked the #3 best accredited online college in Michigan.
Access these Benefits.
World-class online institutional resources

Enjoy the quality and ease of our advanced structural analysis program courses, thanks to online resources to keep you connected and engaged.

Industry-connected faculty

Our faculty will work with you to find hands-on work experience where you live. Regardless of whether you work in an advanced structural engineering setting, our faculty advisors will help you find local organizations where you can gain real-world experience in advanced analysis.
Take Fundamental Advanced Analysis Courses.
As a student in our advanced structural analysis graduate certificate program, you will take courses that integrate learning by doing. You will build the fundamental skills and knowledge to succeed in advanced structural engineering.
Learn how advanced analysis in steel frame design ensure that infrastructure and buildings can handle intense environmental loads. Explore the dynamic response of single- and multi-degree structures using exact analytical and numerical methods.
Every student in the advanced structural analysis graduate certificate program will take the same foundational course: Matrix Structural Analysis. Then each student can choose two of the following courses to focus on the topics most relevant to their interests and career goals:
Advanced Structural Analysis dives into nonlinear structural analysis techniques, especially energy methods, applied to elastic buckling analysis, large deflections of beams, second-order effects in frames, and advanced analysis in steel frame design.
Finite Element Analysis introduces finite element formulation, including isoparametric elements, axisymmetric analysis, plate and shell elements, dynamics, buckling, and nonlinear analysis.
Structural Dynamics explores free and forced vibration of undamped and damped single degree of freedom systems
Learn more about these courses at our program page.
What Can You Do With This Online Structural Engineering Certificate?
Advanced structural analysis specialists have major impacts on the lives and safety of millions of people across the country and the world. To make crucial decisions, they use both numerical and closed-form analysis to determine how structures will respond under both static and dynamic loads. In many ways, these engineers are the foundation of our modern industrial society.
Whether you are a working professional in structural engineering or are just starting out on your advanced structural analysis journey, a structural engineering certificate in advanced analysis from MTU will set you up to succeed in a wide range of settings and career paths.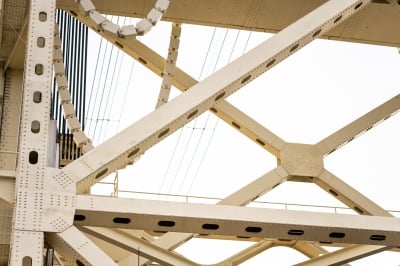 Possible Careers
Finite element analyst
Failure analysis engineer
Mechanical engineer
Structural engineer
Structural analyst
Get Started on Your Online Advanced Analysis Certificate.
Want to learn more about how our graduate certificate can prepare you for complex tasks like performing advanced analysis in steel frame design? Or determining environmental impacts on buildings?
Take the next step on your journey at Michigan Tech. We are here to answer your questions and help you succeed in your online program.