The group has broad interests in the life cycle of atmospheric aerosols, their interactions with land-cover/land-use changes, and consequences on the ecosystems, air quality and climate.
Contact: Xin Xi
---
The Physical Modeling Laboratory is equipped with the state-of-the-art (i) combined Acoustic Velocity and Ultralow Permeability Measurement and (ii) Ultrasonic Measurement systems.
---
Acoustic Velocity and Ultralow Permeability Measurement
Using the combined Acoustic Velocity and Ultralow Permeability Measurement System, we measure the P- and S-wave velocities of rock samples. This system also can provide ultralow-permeability measurements in the range of 5 nD to 50 μD at different pressure and temperature conditions.
Understanding the relationship between the physical properties of the rocks with their acoustic properties helps us to identify the lithology and fluid properties of subsurface formations.
Understanding the permeability of ultralow permeable rocks is important for various disciplines. For instance, unconventional petroleum recourses such as shale and tight formations are characterized by their low and ultralow permeabilities. We need to have an accurate estimate of the permeability of those reservoir rocks to calculate fluid transmissibility in those resources and optimize hydrocarbon production. Ultralow permeability measurement is also crucial in volcanology. Volcanic rocks usually have low permeability. To have an estimate of gas transport in volcanic settings, we need accurate estimates of the permeability of volcanic rocks.
Ultrasonic Measurement System
The Ultrasonic Measurement System (UMS) enables us to record acoustic emissions from any physical models. To obtain a better insight into seismic wave propagation in the real geological settings, we build their micromodels and study the seismic wave propagation in them using UMS. Such insight helps us to interpret seismic waves with respect to their sources and environments, in which they propagate.
Contact: Radwin Askari
---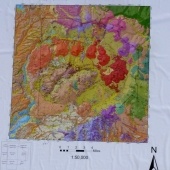 Remote Sensing for Hazards focuses on developing remote sensing tools and validation methods for hazard mitigation and resource protection in Guatemala, El Salvador, Nicaragua, Ecuador, Panama and soon Costa Rica. Goals include linking the geo-science agencies in the four countries and building a new educational system of applied research and engineering.
Contact: Request Form
---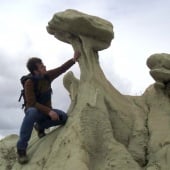 The current focus is the study of volcanoes, which erupt continuously, like Fuego Volcano in Guatemala or Villarica in Chile. Using a variety of seismic, acoustic and gas sensing instruments to make observations of this low level activity, researchers construct possible changes in the subsurface. This research group is looking for students with strong backgrounds in math and physics, who are good at computing, making things work in challenging conditions, and who want to travel.
Contact: Graduate Program Director
---