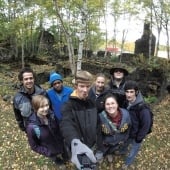 This club is designed to allow students to discover the properties of minerals and geological environments through trips to the field, primarily focused on the local area. The club is focused on outdoor activities which are used to apply academic knowledge to minerals and rocks in their natural settings and to encourage a life-long interest in mineral collecting as well as technical aspects of preparing raw specimens.
---
Established to promote among its members continued professional growth in the areas of mining, metallurgy, geology, and exploration, and to encourage professional responsibility which includes ethical, social, economic, and safety considerations.
We try to further mining education at Michigan Tech for interested students. Specifically, we promote the mining and materials processing related classes, visit mining operations (past and present), and attend the National SME meeting.
---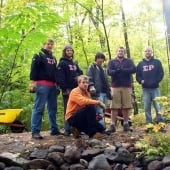 Sigma Rho's Alpha Chapter, founded in 1892, was the first professional mining fraternity in the United States. We were the first fraternity on the Michigan College of Mines campus (now known as Michigan Technological University), and are one of the oldest fraternities in the United States.
Goals of the fraternity were to "perpetuate a true fraternal spirit among its' members, thus providing lasting benefits for its' members while in college and after graduation.
---