A Brighter Future for Our Planet and Its Inhabitants
Your gifts directly impact the education of our students today and the geological and mining breakthroughs of tomorrow. Monetary gifts help to attract world-class faculty, support the creation of new and innovative programs, and maintain advanced facilities and equipment—funding opportunities for real-world application and experience. All of these elements are necessary to equip tomorrow's geological and mining engineers and scientists with the tools to create a better and brighter future for all of us.
To learn more about how you can support geological and mining engineering and sciences at Michigan Tech, contact: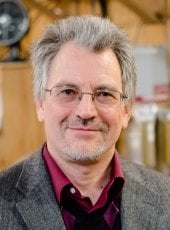 Chair, Geological and Mining Engineering and Sciences
Professor, Geological and Mining Engineering and Sciences
Affiliated Professor, Physics
Ways to Give
GMES Fund
An unrestricted gift to the Geological and Mining Science and Engineering Fund gives the department the flexibility to support immediate priorities, and respond to emerging opportunities. It can support programs, facilities, faculty, and students. Gifts can be earmarked for specific activities. Every gift counts no matter the size.
Bill Rose Geoscience Student Travel Fund
Giving to this fund helps to create an ongoing and dependable source of funding to provide vital off campus experiences for our geo students. We continually hear from them that their professional field trips to see the real world, often accompanied by experts and student peers from all over the world, are among their best and highest level learning experiences. The best geoscientists have seen the most rocks.
The Lloyal O. Bacon Endowed Fund
All gifts made to this fund are dedicated to supporting undergraduate and graduate students majoring in Geophysics and Geological Engineering.
A. K. Snelgrove Endowed Fund
All gifts made to this fund will be dedicated to scholarship support for undergraduate students majoring in any of the four GMES programs.
Mining Engineering
All gifts made to the Mining Engineering Fund are dedicated to the enhancement of the Mining Engineering Program.
GMES Student Society Support
Students belonging to Michigan Tech chapters of professional societies benefit from career development activities, and the opportunity to network with peers and professionals within the discipline.
Undergraduate Scholarships
This fund provides GMES undergraduate students (any major and level, from freshmen to seniors) with scholarship support to excel in their education.
Dr. William J. Gregg Annual Scholarship
This scholarship fund was established to honor the memory of Dr. William J. Gregg. Gifts go toward a scholarship award, for which juniors and seniors majoring in a program within the Department of Geological and Mining Engineering and Sciences are eligible. Awardees must maintain a minimum GPA of 3.0 and possess a love for geology.