A Brighter Future for Our Planet and Its Inhabitants
Your gifts directly impact the education of our students today and the geological and mining breakthroughs of tomorrow. Monetary gifts help to attract world-class faculty, support the creation of new and innovative programs, and maintain advanced facilities and equipment—funding opportunities for real-world application and experience. All of these elements are necessary to equip tomorrow's geological and mining engineers and scientists with the tools to create a better and brighter future for all of us.
To learn more about how you can support geological and mining engineering and sciences at Michigan Tech, contact: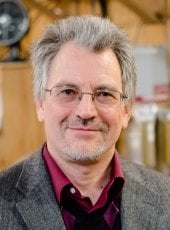 Chair, Geological and Mining Engineering and Sciences
Professor, Geological and Mining Engineering and Sciences
Affiliated Professor, Physics
Ways to Give
Alumni Gifts
Alumni can make gifts toward the enhancement of teaching, enriching the department's research environment, and increasing opportunities for real-world activities. Gifts can be earmarked for specific activities.
Nordeng Fund
Giving to this fund supports field trips to industrial sites and enrichment meetings that provide opportunities for experiential learning.
Mining Engineering
All gifts made to the Mining Engineering Fund are dedicated to the enhancement of the Mining Engineering Program.
GMES Student Society Support
Students belonging to Michigan Tech chapters of professional societies benefit from career development activities, and the opportunity to network with peers and professionals within the discipline.
Copper Country Rock and Mineral Club, DeCleene Memorial
This scholarship is awarded to a student who best exemplifies the blending of mineralogy and mineral collecting as both an academic pursuit and a hobby. This fund was established in memory of Nathan DeCleene, who was a Michigan Tech geological engineering student and an active member of the Copper Country Rock and Mineral Club.
Richard E. Honrath Jr. Memorial Fund
This memorial fund was established to honor the late Professor Richard E. Honrath and to further his vision of scholarship. Gifts made to the fund support the Richard E. Honrath Memorial Lecture, as well as provide scholarships for undergraduate and graduate students whose major or research demonstrates a commitment to protecting the environment and/or pursuing knowledge about the Earth's natural forces. Invited lecturers are internationally recognized scholars in the area of atmospheric sciences who interact substantially with students during their visit.
Dr. William J. Gregg Annual Scholarship
This scholarship fund was established to honor the memory of Dr. William J. Gregg. Gifts go toward a scholarship award, for which juniors and seniors majoring in a program within the Department of Geological and Mining Engineering and Sciences are eligible. Awardees must maintain a minimum GPA of 3.0 and possess a love for geology.
Geology Club
Gifts made to this club allow students to discover the properties of minerals and geological environments through trips to the field, primarily focused on the local area. The club is focused on outdoor activities which are used to apply academic knowledge to minerals and rocks in their natural settings and to encourage a life-long interest in mineral collecting as well as technical aspects of preparing raw specimens.
Bill Rose Geoscience Student Travel Fund
Giving to this fund helps to create an ongoing and dependable source of funding to provide vital off campus experiences for our geo students. We continually hear from them that their professional field trips to see the real world, often accompanied by experts and student peers from all over the world, are among their best and highest level learning experiences. The best geoscientists have seen the most rocks.
Art Ettlinger Memorial Scholarship Fund
This scholarship fund honors the memory of Art Ettlinger. It was Art's desire that the award be given to a student who is a senior, majoring in the Department of Geological and Mining Engineering and Sciences. Awardees must maintain a minimum GPA of 3.0 and a GMES GPA of at least 3.5, and who intend to pursue a career or graduate school in the area of economic geology, mineral geology, mineral exploration, or mining engineering.