William J. Rundle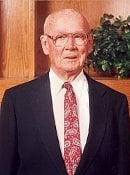 William Rundle graduated with honors in Mining Engineering from Michigan Tech and received his MS in Mining Engineering from the University of Minnesota in 1950.
After graduation, he held many positions with various mining companies before becoming an Associate Professor of Mining Engineering at the University of Wisconsin-Madison in 1946. He joined Cyprus Mines in 1955 as a mining engineer and climbed the ranks to the position of Vice President during his 23 years with the corporation. He was General Manager of Arizona Mines, and Director of Mt. Goldsworthy Mining, Western Australia.
He was a past president of Arizona Mining Association and a member of the Catalina Rotary, Tucson; Habitat for Humanity, Tucson; past chairman of the Board of Trustees and Life Trustee, Tucson Medical Center, Tucson; member and past Ruling Elder, St. Marks Presbyterian Church; Board of Trustees, Tucson Housing Foundation and several civic and service organizations. He was a member of AIME and was honored with the Michigan Tech Board of Trustees Silver Medal in 1977. He was also a member of the Michigan Tech Presidents Club.
From 1995 Induction to the Geological and Mining Engineering and Sciences Academy