William F. Richards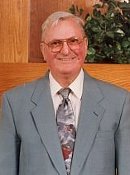 Retired President, Davy Inc.
Retired Director, Davy Corporation, Ltd.
William Richards received a BS in Mining Engineering from the Michigan College of Mining and Technology in 1942. He is a registered professional engineer in Minnesota and Wisconsin.
After graduation, he worked as a mining engineer for Pickands Mather and Company in Ely, MN before serving in the Civil Engineering Corps of the U.S. Navy Seabees, attaining the rank of Lieutenant Commander. In 1946, he shifted his career toward construction, building power plants with the Herlihy Mid-Continent Company in southern Michigan. In 1951, he associated with an engineering construction company in Hibbing, MN involved with the design and construction of beneficiation plants as well as the agglomeration of iron ore.
He held various positions in Hibbing, MN, Chicago, IL, Cleveland, OH, and San Francisco, CA before he became Executive Vice President of Operations of The McKee Corporation in 1975. From 1979 until his retirement in 1983, he served as President of Western Hemisphere Operations and Marketing of Davy, Inc. (formerly the McKee Corporation) and as a Director of the Davy Corporation, Ltd. of London, England.
He received the Board of Trustees Silver Medal in 1974 and is a member of the Presidents Club and Century II Campaign. He serves on the Board of Directors of numerous organizations including McLouth Steel of Trenton, MI, Rotary, and the Museum Society. He has held several distinguished offices in his current community of Punta Gorda, FL including Mayor and City Council Member, Vice President of the Royal Order of Ponce de Leon Conquistadors, and member of the Chamber of Commerce and Business Alliance. He is also a member of AIME and Chairman of the Advanced Grades of the U.S. Power Squadrons.
Bill and his wife, Rosemary, have six grown children and eleven grandchildren.
From 1996 Induction to the Geological and Mining Engineering and Sciences Academy