William C. Quinlan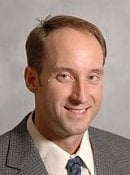 BS Geological Engineering 1988
Bill graduated with honors from Michigan Tech in 1988 with a B.S. in Geological Engineering. Following graduation, he began his oil and gas career with Terra Energy Limited in Traverse City, Michigan. As Senior Production Engineer, he developed novel gas lift techniques which became industry standards for Antrim Shale gas production.
In 1997, he joined Jordan Exploration Company, LLC, continuing a focus on the development of unconventional hydrocarbon reservoirs as well as renewable energy projects. Bill has also worked in partnership with the Michigan Tech Department of Geological and Mining Engineering and Sciences since 1994 to conduct and coauthor several oil and gas research projects directed through the US Department of Energy.
Bill is a Licensed Professional Engineer, Chairman of the Northern Michigan Society of Petroleum Engineers, and member of the Michigan Oil and Gas Association.
From 2008 Induction to the Geological and Mining Engineering and Sciences Academy