Werner G. Zinn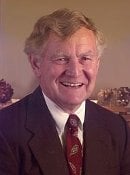 BS Geological Engineering 1966
Following graduation, Glen began working as an Exploration Geophysicist with the former Anaconda Company, and in 1969, was promoted to District Geophysicist. In 1971 he began a 15 year stint with Molycorp, Inc. (Unocal). While there, his job titles included Chief Geophysicist, Regional Exploration Manager of the southwest and Rocky Mountain Districts, Western Regional Exploration Manager, and Manager of Metals Exploration.
In 1986, Glen was appointed Assistant to the President of Hecla Mining Company, Coeur d'Alene, Idaho and two years later was promoted to Vice President to the Chairman. In 1990, he served as Vice President of Corporate Development and Exploration and was appointed by the U.S. Secretary of Interior to the National Strategic Materials and Minerals Advisory Committee. From 1993 to 1994 Glen was an independent management and operation consultant. He was appointed President, CEO, and Director of Crystallex International Corporation in 1994. Since 1995, Glen has been President and Chief Operating Officer of AMT (USA), Inc. and is responsible for all exploration and development operations for several copper deposits in Arizona.
W. Glen Zinn graduated from Michigan Tech in 1966 with a B.S. in Geological Engineering. Glen has also taken courses from MIT Sloan's School of Business, Stanford University's Graduate School of Business and Kellogg's Graduate School of Management Executive Program.
From 2000 Induction to the Geological and Mining Engineering and Sciences Academy