Walter N. Rognerud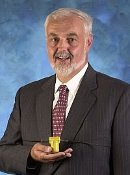 BS Geological Engineering 1971
Walt is holding one of the thousands of geophones that have kept him employed in oil exploration over his 30 plus year career. While working on his undergraduate degree in Geological Engineering, he interned two summers in mineral exploration. Upon graduating from Michigan Tech in 1971 with a B.S. in Geological Engineering, Walt went on to work in base metal exploration for U.S. Steel. He then returned to Michigan Tech for an M.S. in Geophysics (received in 1974), doing a field study south of the Keweenaw Fault near Mass City, with a research grant from Cleveland Cliffs Iron (CCI).
Walt took a job with an oil company, working with Gulf Oil in exploration geophysics in seismic processing, acquisition, and interpretation. After more than 10 years, he left Gulf to join Marathon Oil, where he worked in Geophysical Special Projects, furthering the use of AVO (amplitude-versus-offset) and 3D seismic in that company.
He retired from Marathon after more than 18 years. Since 2003, Walt has been under contract to TGS-Nopec, for quality control of advanced seismic processing. In their spare time, Walt and his wife, Cheryl (B.S. 1971, M.S.1974; Michigan Tech), run a ranch in Weimar, TX.
From 2004 Induction to the Geological and Mining Engineering and Sciences Academy