Walter S. Bannister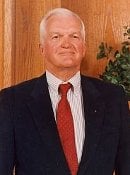 Retired Executive Vice President, Genstar Limited
Walter Bannister earned a BS in Mining Engineering in 1947 from the Michigan College of Mining and Technology. During World War II, he took three years away from his studies to serve in the Canadian Army Infantry Corps. He also graduated from the Banff School of Advanced Management in 1967.
After working seventeen years in various segments of the Canadian mining industry, he joined Genstar Limited in 1963 as Vice President of Production for its Inland Cement Industries subsidiary. He served three years in Buenos Aires, Argentina as President of Argentine Portland Cement Co. and returned to Genstar in 1973 to be President of Inland Cement. In 1976, he was promoted to Executive Vice President of Genstar Limited in Edmonton, Canada, and put in charge of its real estate activities in the U.S. and Canada. After eight years, he was put in charge of the financial services group in San Francisco, CA, and remained in that capacity until his retirement in 1986.
He received a Board of Trustees Silver Medal in 1981 and is a member of the Presidents Club. He has been a member of the Engineers Club of San Francisco, Canadian-American Society of San Francisco Board of Directors, Canadian Institute of Mining and Metallurgy, AIME, Professional Engineers of Alberta and Ontario, Alberta Northwest Chamber of Mines, Edmonton Chamber of Commerce, and the United Community Fund of Greater Edmonton.
From 1996 Induction to the Geological and Mining Engineering and Sciences Academy