Walfrid Been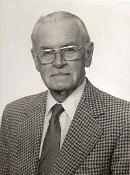 Retired Professor & Head, Mining Engineering Dept., Michigan Technological University
The late Walfrid (Wally) Been received a BS in Mining Engineering from the Michigan College of Mining and Technology in 1928. During his college years, he was involved in Tau Beta Pi, Sigma Rho Fraternity, Student Council, Inter-Fraternity Council, and the Mining Club, and was also president of his senior class.
Wally started his diverse career in 1928 when he went to work for the Copper Range Company in Painesdale, MI as an efficiency engineer. In 1931, he worked for Calumet & Hecla, Inc. in Ahmeek, MI as a safety engineer, and, in 1934, as a laboratory technician for the White Star Refining Co. in Trenton, MI. In 1936, he traveled overseas to work as an engineer for Patino Mines & Enterprises, Inc. in Bolivia. Three years later, Wally returned to the U.S. to work for Isle Royale Copper Co., and was appointed underground superintendent.
In 1942, he started a 13-year career at U.S. Steel Corp., where he worked as a mine superintendent in the Oliver Iron Mining Division in Duluth, MN. U.S. Steel selected Wally to represent the U.S. Government's People to People program to assess mines in India and South Africa from 1947-1948.
From 1955 until his retirement in 1975, Wally served as professor and head of the Mining Engineering Department at Michigan Tech.
Wally was chairman of the Michigan Mine Safety Board, the Community Chest in Chisholm, MN, the City's housing authority, and the Kiwanis Club. He was also a member of AIME, the Rotary Club, the Hibbing Lodge F and AM, and the Algonquin Club of Hibbing, MN.
Wally served the Michigan Tech community through his long-standing career in the Mining Engineering Department, and was also an Alumni Association Golden M Member.
Wally and his wife, AnnaJane, are both deceased and are survived by their four children, John Theodore, Charles Robert, Karl Frederick and Barbara Ann Stewart.
From 1998 Induction to the Geological and Mining Engineering and Sciences Academy