Thomas Pangborn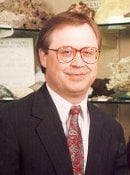 BS Geological Engineering 1975
Tom Pangborn received his BS in Geological Engineering from this department in 1975 and has followed a distinguished career in oil and gas in Michigan. After graduation, he went to work as an engineer for Shell Oil in Traverse City where he has lived ever since.
In 1977 he began work as an exploration geologist for Reef Petroleum and in 1980 started off on his own as a managing partner for the Schmude and Pangborn Joint Venture. In 1983 he founded Pangborn Exploration and since 1989 has been Chairman and CEO of Savoy Oil and Gas.
He is a member of the Board of Directors of the Michigan Oil and Gas Association and is past chairman of the Northern Michigan Section of the Society of Petroleum Engineers.
Tom is married (Vickie is here tonight) and has two children. He and Vickie have established a scholarship and field fund in our department in the name of Professor Emeritus Stephan Nordeng, who taught in our department for 31 years, from 1957-1988. Tom has been an active friend of our department in other ways too: he has hosted student field trips from Houghton to observe drilling near Traverse City and has helped us greatly in our efforts to interact with Michigan Industry.
From 1995 Induction to the Geological and Mining Engineering and Sciences Academy