Thoedore Rozsa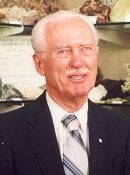 Theodore Rozsa was born and raised in Grand Rapids. He graduated from our department with honors and a BS in geology in 1936. He was the only graduate in geology that year, and he completed a four year program in three years. Our first degrees in geological engineering didn't come until after 1940, but the curriculum Ted took was very much like the geological engineering which was to come. He has many stories about life in Houghton in the depression years.
Ted went to work for Shell Oil Company in Michigan and then in Texas where he met and married Lola. He advanced to become the Assistant Area Geophysicist for Shell in New Orleans, and then in 1949 accepted an assignment as Chief Geophysicist for Shell Canada.
Ted and his family decided to make Calgary their permanent home, and in 1950 Ted started Frontier Geophysical Ltd. and put his first seismic crew to work. When geophysical activities slackened in the early 1960's, Ted sold the company to his senior personnel and went into petroleum exploration and production with a new company called Basset Oil Limited, which had Ted as its owner and president. In 1979 he sold that successful company and formed Rozsa Petroleum of which he is also the owner and president.
Ted's professional and extraprofessional activity is spectacular; he is a professional engineer and member of SEG and AAPG and has served as director and governor of the Calgary Philharmonic Society, a governor of the Glenbow-Alberta Institute. He has received many awards including the first gold medal from the Canadian SEG in recognition of outstanding contributions to the petroleum industry, The Lescarbot Award from the Government of Canada for outstanding contributions to regional cultural activities, the Rotary Club of Canada Integrity Award recognizing uprightness, honesty, and sincerity.
Ted has generously endowed a scholarship fund at Michigan Tech that supports 79 undergraduate Rozsa Scholars (including six geological engineers!) this year and has helped many more in the five years it has been in place. Ted has also generously supported the arts community in Calgary and now at Michigan Tech.
From 1995 Induction to the Geological and Mining Engineering and Sciences Academy