Terre Lane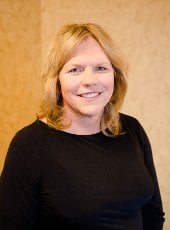 BS Mining Engineering 1982
Terre Lane completed her Bachelor's Degree in Mining Engineering at Michigan Tech in 1982. Her career journey began at Livengood Joint Venture as a project engineer. Later, Terre held many different positions at various companies: Lacana Gold, American Mine Services, Kelsey Engineering (President), General Minerals Corporation (Consultant), Gustavson Associates (Principal Mining Engineer), Intercontinental Potash Company (Vice President of Engineering and Project Development) and Land and Associates (President). These roles also allowed her to manage projects in many countries, including Canada, Mexico, India, Ireland, Russia, China, Chile, Bolivia, Peru, Costa Rica, Africa, and New Zealand. Her career has resulted in over 30 years of experience in mining engineering. She has worked with numerous minerals, including base and precious metals, coal, potash, beryllium, uranium, talc, sand, and gravel.
Terre spent some time exploring her other interests as well. She has served as the Database Manager and an art and math teacher at the Native American Multicultural Education School and worked as the Computer Systems and Business Manager for the Foothills Art Center.
She is currently principal mining engineer at Global Resource Engineering, Ltd. in Denver, Colorado.
Terre is a Mining and Metallurgical Society of America Qualified Professional in Ore Reserves and Mining and a member of the Society for Mining, Metallurgy, & Exploration and the American Exploration & Mining Association.
From a Husky family, Terre's father, brother, and two cousins are also alumni. Her grandfather and great grandfather both worked locally in Keweenaw Copper Mines.
While at Michigan Tech, Terre participated in many activities including boating, fishing, hunting, landscape painting, skiing, and orienteering. As an alumnae, she maintains a strong relationship with Michigan Tech as a member of the Geological Department Mining Advisory Board, College of Engineering Advisory Board, the President's Council of Alumnae, and also provides support for MTU senior capstone projects.