Ronald J. Christie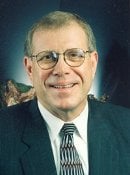 BS Geological Engineering 1968
Ron began his career with Tenneco Oil Company where he was employed for 21 years. During his time at Tenneco, Ron was a Geological Engineering Supervisor and provided technical support to geological engineering staff who were involved with generating prospects and development drilling. He also held positions as Geological Engineering Manager for the Gulf of Mexico region and Exploration Manager for the Western Gulf Division. In these positions, he initiated and managed regional evaluation, lease acquisition, and exploratory drilling in the western Gulf of Mexico.
In 1989, he moved to Amerada Hess Corporation in Houston, Texas where he was Manager of U.S. Offshore Exploration. In 1996, Ron assumed his current position as President and Chief Operating Officer of Cockrell Oil Corporation. Cockrell is an independent, privately held company with its primary focus on the Gulf of Mexico basin.
Ron received his B.S. in Geological Engineering in 1968 from Michigan Tech. Ron is also involved in several professional societies and is a certified geologist and registered petroleum engineer.
From 1999 Induction to the Geological and Mining Engineering and Sciences Academy