Robert C. Weed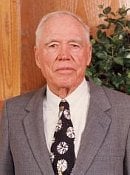 Retired President, Natural Resources Group
Senior Corporate Vice President, Anaconda Company
Robert Weed received a BS in Mining Engineering from the Michigan College of Mining and Technology in 1942. After graduation, he served in the U.S. Army Corps of Engineers from 1942-46, rising to the rank of Captain. He was awarded the Silver Star by General Patton in 1943 for gallantry in action at the Battle of Kasserine Pass in Tunisia, North Africa.
He joined the Anaconda Company in 1946, where he worked as a mining engineer in Butte, MT. In 1948, he transferred to Compania Minera de Cananea, a subsidiary of the Anaconda Company, in Cananea, Sonora, Mexico. His distinguished career in Mexico included several promotions to Vice President and Assistant General Manager in 1958, Director in 1959, and President and General Manager in 1965. He was promoted in 1971 to President of the Primary Metals Division of the Anaconda Company at its headquarters in Tuscon, AZ. In 1974, he was appointed Group President of the Natural Resources Group. In this capacity, he had charge of all of Anaconda's mining, milling, smelting and refining operations on a world wide basis. He resigned in 1975, to pursue a keen interest in cattle ranching. He currently owns and operates two cattle ranches, totaling 60,000 acres, in Arizona and New Mexico.
Bob has been a long-time member of AIME, the Michigan Tech Alumni Association, and was awarded the Board of Trustees Silver Medal in 1972.
From 1996 Induction to the Geological and Mining Engineering and Sciences Academy