Robert R. Wallace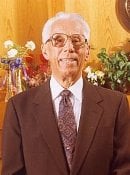 BS Mining 1949
BS Metallurgical Engineering 1949
Retired President, R.R. Wallace & Associates
Robert R. Wallace graduated with honors from the Michigan College of Mining and Technology in 1949 with BS degrees in Mining Engineering and Metallurgical Engineering, and also with a Bachelor of Mining Engineering. While in college, he was active in many campus organizations such as Blue Key, Tau Beta Pi, Yearbook, Alpha Sigma Mu, and Student Council, as well as intramural sports. He was also listed in Who's Who in American Colleges and Universities.
Bob joined U.S. Steel's Oliver Iron Mining Division in Hibbing, MN, as a mining engineer in 1949. In 1954, he became supervisor of engineering for the Sherman Group. One year later, Bob was promoted to the rank of assistant chief of mining engineering for the Hibbing-Chisholm District, and later for the Western District. In 1960, he was promoted to assistant superintendent of mining engineering for the Minnesota Operations, and from 1962 to 1965, he was mineral lease engineer for that division.
In 1966, Bob founded R.R. Wallace & Associates, a consulting firm involved with mining and civil engineering and surveying projects. He was president of the firm until his retirement in 1985.
Bob has been affiliated with several professional organizations including AIME, the Engineers Club of Northern Minnesota, and the Civic and Commerce Section of St. Louis Co. Club. He has held several positions such as president of the Minnesota Planning Association, chairman of St. Louis County Area Development Association, and chairman of the Chisholm Planning Commission.
Bob stays very active in the community as a volunteer or member of the Community Youth Fund, The American Red Cross, Boy Scouts, Minnesota Arrowhead Association, Kiwanis Club, Chamber of Commerce, and the Cubmasters. Bob is also a veteran of WWII where he served as an Army Air Force Staff Sergeant.
From 1998 Induction to the Geological and Mining Engineering and Sciences Academy