Robert P. Matson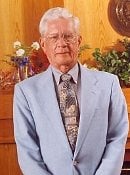 1924–2020
Robert P. Matson earned a BS degree with honors in Mining Engineering from the Michigan College of Mining and Technology (MCM&T) in 1949. While Bob was in school, he was a member of Tau Beta Pi, AIME, and an intramural basketball team.
Bob has followed in his family's footsteps; his father taught in the mining and civil engineering departments from 1918 to 1950, and his grandfather worked in the Quincy Mine. Bob's twin brother, Charles, also graduated from MCM&T with a BS degree in Mining Engineering in 1949.
Right after graduation, Bob joined Hanna Mining Company as a mining engineer for the Hiawatha Mine in Iron River, MI. In 1950, he was a safety engineer for the Michigan District Office. He then continued his career as operating engineer, and general operating engineer. Bob moved up the ranks to become superintendent for several operations, and then he was named assistant manager of mines in Michigan and Minnesota. His career then prospered in several other management positions, including manager of planning and technical services for the Domestic Iron Ore Division. In 1971, Bob was named general manager of the division with responsibility for all iron ore operations in Minnesota, Michigan, Missouri, and Ontario. In 1979, he became the general manager of Western operations for Hanna in Oregon, Washington, and Nevada . Bob retired from Hanna after a long and successful career.
Bob has also been actively involved in several civic projects. He was elected chairman of the Board of Directors of the Merchants and Miners State Bank in Hibbing, MN, and director of the First National Bank of Iron Mountain, MI. He also served as president of the Briarwood Country Club in Sun City West, AZ. In 1978, Bob was awarded the Board of Trustees Silver Medal from Michigan Tech.
From 1998 Induction to the Geological and Mining Engineering and Sciences Academy