Richard L. Wunderman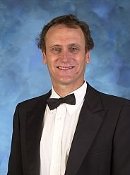 PhD Geology 1988
MS Geology 1983
Rick attended Foothill Junior College after graduating early from high school. After his mother insisted he find a summer job that was in line with his interests and skills, he chose one that required being a licensed boat pilot on Isle Royale. He took the job, and on one occasion, too far offshore, he was struck by lightning and knocked unconscious.
Rick obtained his B.S. from the University of California, Berkeley, where he was a member of its Sailing Club. Following graduation, he took a job as a seasonal ranger at Isle Royale. After spending a winter on the Keweenaw, this led him back to school, taking classes at Michigan Tech where he received his M.S. in Geology in 1983 and his Ph.D. in 1988.
Rick has worked in industry as a geophysicist for 4 years, traveling the world. After a couple of short stints in the software industry and teaching at a community college in Colorado, he moved to Washington, DC and became an editor at the Smithsonian's Bulletin of the Global Volcanism Network, communicating with volcano watchers in many parts of the world, and helping them write meaningful reports regarding volcanism.
From 2004 Induction to the Geological and Mining Engineering and Sciences Academy