Richard R. Smith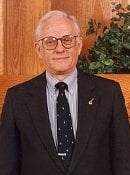 MS Mining 1951
BS Metallurgical Engineering 1950
BS Mining 1949
Richard Smith earned a BS in Mining Engineering in 1949, a BS in Metallurgical Engineering in 1950, and a MS in Mining Engineering in 1951 from the Michigan College of Mining and Technology. He is also a graduate of the executive program of Sloan Management School at the Massachusetts Institute of Technology.
In 1951, Richard began his career as a metallurgist with the Cleveland-Cliffs Iron Co. In 1959, he joined Hanna Mining Company, which began a distinguished 27-year career. At Hanna Mining, he served in many capacities including Plant Superintendent of the Groveland Mine, General Superintendent of National Taconite, Vice President of Technical Services, and Vice President of Domestic Operations. From 1986-90, he switched his emphasis to consulting, serving as President of Kilvans, Becker, & Smith, an interim management company, and as a Senior Associate of Behre Dolbear, an international mineral consulting firm. From 1991 to the present, he has been President and CEO of Midland Standard, Inc., an international mineral consulting firm headquartered in Cleveland, OH.
He is a Michigan Tech Fund Life Trustee and a member of the Alumni Association Board of Directors and Century II Campaign. He was awarded the Board of Trustees Silver Medal in 1980. He is a member of AIME, American Iron & Steel Institute, ASTM, and Cleveland Leadership. He is a member of the Board of Trustees of Suomi College.
From 1996 Induction to the Geological and Mining Engineering and Sciences Academy