Rebecca L. Smits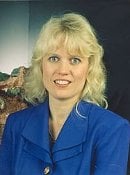 BS Geological Engineering 1986
After graduation, Becky began her career as a Geological Engineer with EC Jordan Company in Portland, Maine where she was responsible for subsurface exploration, design, testing, and construction of geotechnical projects. In 1988, she moved to Traverse Group, Inc. in Traverse City, Michigan as a Field Engineering Supervisor of hydrogeological projects at oil and gas well sites, gas stations, the Traverse City U.S. Coast Guard Station, and a U.S. E.P.A. biorestoration project. A year later she became Project Engineer with Otwell Mawby, PC in Traverse City, Michigan. As Project Engineer, she was responsible for remedial investigations and feasibility studies, preparing wastewater and air discharge permit applications, conducting site investigations, and providing oversight for drilling and excavations.
Four years later, Becky assumed her current position as President and Managing Engineer of Inland Seas Engineering, Inc. in Traverse City, Michigan. She currently serves as Project Engineer and Manger for environmental and geological projects. Becky is active in several community organizations such as Northwestern Michigan College's Technology Center Planning Task Force.
Becky received her B.S. in Geological Engineering from Michigan Tech in 1986. She also received the Outstanding Young Alumni Award from the Michigan Tech Alumni Association in 1998.
From 1999 Induction to the Geological and Mining Engineering and Sciences Academy