Ralph Noyes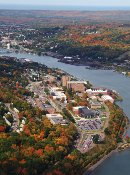 Ralph Noyes was born in Chicago and came to Michigan Tech in the late 60's. He got his BS in geology in 1970, the year I came to Houghton, and was in our master's program until 1972.
He has had a career of increasing responsibility in the mining industry. He began in industrial minerals, and did exploration, plant management, and sales. In precious metals he was an underground miner, mine geologist, and manager of several mines.
Since 1981 Ralph has worked for Hecla Mining Company and since 1988 has been Vice President of Metals Mining. In this job which covers Canada, the US, and Mexico, he has been in charge of several open pit and underground mines, including establishing a wholly owned Mexican Subsidiary and building an open pit leach gold mine in Mexico. His current responsibilities include operations and business development via exploration and mergers and acquisitions. His professional activities have increasing involved two challenges: multinational organization and specialty metals.
Ralph is on the board of directors of the Idaho Mining Association, is Chairman of the Board of the National Coalition of Public Lands and Natural Resources and is on the Board of advisors to the Dean of the College of Mines and Earth Resources at the University of Idaho. Ralph is married and has two children in college, and has travelled all the way from Post Falls, Idaho.
From 1995 Induction to the Geological and Mining Engineering and Sciences Academy