Peter J. Van Altena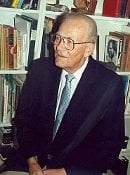 MS Electrical Engineering 1951
BS Geological Engineering 1950
In 1984, Peter retired from Dome Petroleum Limited in Calgary, Alberta. He started at Dome Petroleum as a Senior Staff Geophysicist dealing with seismic data in frontier areas. In 1975, he was promoted to Exploration Manager for the continental U.S., and in 1979, was named Vice President of Exploration. As Vice President, he managed an exploration department of over 300.
Before starting with Dome Petroleum, Peter was employed with United Geophysical Corporation in Pasadena, California. While with United Geophysical, he was Supervisor of Field Operations in Great Falls, Montana, western Canada, and the Arctic Islands as well as Party Chief in Chile and Venezuela. From 1955-59, Peter performed reflection seismic in the midcontinent area for Cardinal Geophysical Company in Wichita, Kansas. He began his career with Mountain Geophysical Company in Denver, Colorado as Party Chief for a reflection seismic crew.
Peter received a B.S. in Geological Engineering in 1950 and an M.S. in Electrical Engineering with honors in 1951. Both of these degrees were from Michigan Tech.
From 1999 Induction to the Geological and Mining Engineering and Sciences Academy