Michael J. Whims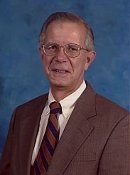 BS Geological Engineering 1974
Mike has just begun his own consulting company after retiring from ANR Storage, an affiliate of ANR Pipeline Company, as Vice President of Storage. As VP of Storage, Mike was responsible for managing an essential public service with twenty-one operating plants, developing, approving, and monitoring a $26 million operating and capital budget, as well as managing a staff of 270 hourly and professional employees. Before holding this position, he held technical and operational positions with ANR Pipeline Company affiliates, MichCon and ANR Storage leading to the position of Director of Operations, Engineering and Construction.
Mike began his career with Texaco, and his duties progressively increased leading to the position of Offshore District Production Engineer for the Gulf of Mexico. Mike has published several technical papers. From 1997 to 1999 he was the U.S. representative to the International Gas Union. He recently worked on the United Way's Detroit campaign as part of their "Loaned Executive" program. As part of a team of corporate executives, Mike helped United Way to exceed its $75 million goal for year 2000.
Mike graduated from Michigan Tech with a B.S. in Geological Engineering with high honors in 1974.
From 2001 Induction to the Geological and Mining Engineering and Sciences Academy