Doug McDowell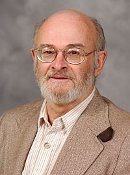 Before joining Michigan Tech in 1978 as an Associate Professor in the geology department, Doug obtained a B.S. (Geology & Mineralogy) from Penn State University in 1960, M.S.and Ph.D. degrees from CalTech in 1996 (Geology), held a post-doc position at the University of Chicago (Experimental Petrology), Research Associate positions at CalTech and the University of California at Riverside, and was an Assistant Professor at Case Western Reserve. His Ph.D. thesis combined field work in the very rugged Panamint Mountains west of Death Valley with pioneering work in the use of the electron microprobe for mineral compositional analysis.
His research interests range from the quantitative mineralogy of igneous and metamorphic rocks to the clay mineralogy of soils and sediments, and he has received international recognition for his research into the active alteration of sediments in the Salton Sea Geothermal Systems.
He is also very involved in railroad preservation as he was responsible for saving a 1000 Hp 120 ton 1952 Baldwin Copper Range Railroad diesel shifter, which will operate at the Duluth Railroad Museum. He also rebuilt a narrow gauge 1915 Porter steam locomotive, now operating at the Houghton County Historical Society in Lake Linden.
From 2006 Induction to the Geological and Mining Engineering and Sciences Academy