C. Mark Rebagliati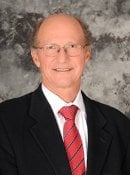 BS Geological Engineering 1969
Mark transferred to Michigan Tech after obtaining a Diploma in Mining Technology from Haileybury School of Mines in Ontario and received his BS in Geological Engineering in 1969. Since this time, Mark has worked in industry beginning with junior Canadian companies and major international companies working up to a geological exploration consultant with Hunter Dickinson Group.
He is currently President of his own company, Rebagliati Geological Consulting, Ltd. where he made his most recent discovery, the new Pebble Mine in Alaska, one of the world's largest copper-gold-molybdenum porphyry deposits. He has also discovered Mount Milligan and Kemess in British Columbia; Campo Morado in Mexico, and Xietongmen-Newtongmen in Tibet, China.
In addition to these discoveries, he also has a long list of awards including: the Colin Spence Award for Global Exploration Excellence; Explorer of the Year, China; the Thayer Lindsley International Discovery Award; the Robert Dreyer Award; and the Bill Dennis Prospector of the Year Award. Mark has worked around the world, published widely, given technical talks to management, analysts, and professional groups.
From 2010 Induction to the Geological and Mining Engineering and Sciences Academy