Lloyal Bacon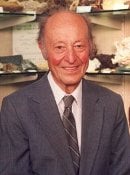 Lloyal Bacon was born in Haaken County, SD where his parents were homesteaders. At an early age he moved to Minnesota where he grew up on a farm. He went to the University of Minnesota where he got a BS in geological engineering in 1941. He then married Elaine and joined the Navy and served as a physicist in the Bureau of Ordinance. After the Navy he returned to Minnesota to work with the Bureau of Mines and Butler Brothers Mining Company, and then to graduate school at Penn State where he received his master's degree in geophysics in 1948.
Lloyal joined the Physics Department at Michigan Tech in 1949, the beginning of nearly 30 years of service to Tech. Lloyal Bacon is known among his colleagues in industry for his competence and imagination in mineral exploration.
Among his undergraduate and graduate students he is known as an excellent and demanding, but kindly teacher. He gained students' respect because of his thoroughness and intellectual honesty, and this respect got greater and greater during the students' professional careers, because the lessons kept coming back to them. For many years Lloyal was one of the few faculty on campus who did scholarly work on the campus and he also was very active as an industry consultant. This served as a reminder to the academic community of those important responsibilities. He maintains his strong commitment to his profession, and we are always glad to see him. Lloyal lives nearby with his new wife Andrea. He has six children and seven grandchildren. He taught me many things, including very important things that I didn't realize until long after he did it. He also taught me to find mushrooms, but never showed me the best spots.
Lloyal Bacon, as one of our most illustrious faculty, is part of the ground floor of our academy!
From 1995 Induction to the Geological and Mining Engineering and Sciences Academy