Leslie W. Pullen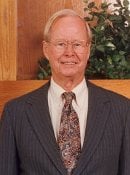 Retired President, Mining & Marketing Consultants, Inc.
Leslie Pullen received a BS in Mining Engineering in 1942 from the Michigan College of Mining and Technology. He is a registered professional engineer in seven states.
After graduation, he served as a First Lieutenant in the 341st engineer regiment of the U.S. Army Corps of Engineers. His regiment constructed 256 miles of the Alaskan Highway in Canada. In October 1943, his regiment embarked for England and landed in France in 1944, with the mission of railroad line, yard, and bridge reconstruction for supplying the U.S. 1st Army.
Pullen began his mining career in 1946 when he went to work as a Mining Engineer for Oliver Iron Mining on the Mesabi iron range in Minnesota. Subsequently, he held positions in underground coal mining, mine plant designing, project engineering and project managing. He was employed by Island Creek Coal, Western Knapp Engineering, Baroid Division National Lead, Union Carbide Ore Company, AMAX, and Cerro Corporation. He resigned from Cerro in 1975 as Vice President, Coal Development to join a coal consulting firm.
He formed his own company, Mining & Marketing Consultants, Inc in 1977. The firm specialized in assessing coal resources, cost effects of the Coal Mine Reclamation Act, strip and underground mine production, negotiation of fully escalatable long term coal supply contracts, washing plant design and operation, exploration and other aspects of the coal business. The firm was capable of complete feasibility studies in copper, lead, zinc, and other mineral commodities. He retired in 1984.
He is a member of the Presidents Club, AIME, and the Mining Club of New York. He is active in various civic and community activities, including Leader of his local subdivision.
From 1996 Induction to the Geological and Mining Engineering and Sciences Academy