Leslie S. Hahn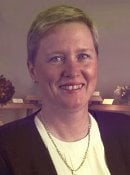 Leslie began her career in 1976 in Tucson, Arizona with Elliot Geophysical Company and then with L.K. Lepley, geologic consultant. After a career change, she became Assistant Manager for Harlow's Landscape Plant and Garden Center in Tucson. In 1979, she moved to Salmon, Idaho and worked as an Environmental Technician for Noranda Mining, Inc. and Administrative Office Manager for Noranda Exploration, Inc.
After receiving an M.B.A. in 1985, Leslie joined Environmental Science and Engineering as Assistant Business Development Coordinator in Denver, Colorado. In 1990, she joined Woodward-Clyde Consultants, now URS Corporation, as Contracts Manager, was appointed as a Vice President in 1995, and now manages the Corporate Contracts Department for URS Corporation.
Leslie attended Michigan Tech and received her B.S. in Geology in 1976 and completed her M.B.A. in 1985 at the University of Montana.
From 2000 Induction to the Geological and Mining Engineering and Sciences Academy