Leimo G. Immonen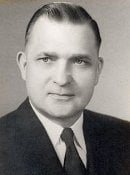 Leimo Immonen earned a BS in Mining Engineering from the Michigan College of Mines in 1924 and a BS in Metallurgical Engineering from the Michigan College of Mining and Technology in 1945. He is a registered professional engineer in California, Colorado, and Nevada.
After serving in the U.S. Naval Reserves from 1924-27, he began a 12-year career as a mill superintendent with Kennecott Copper Corp. in McGill, NV. Following this, he served two years as a plant manager for Western Electric Chemical Co. in Henderson, NV; and nine years as a concentrator superintendent with Southern Peru Copper Corp. in Toquepala, Peru. In 1965-66, he served as a supervising engineer for Bechtel Corp. in San Francisco, CA and, in 1966-71, as an engineer consultant for Stearns-Roger Corp. in Denver, CO. From 1971 until his retirement in 1985, he has been employed as a professional consulting engineer.
Leimo is a member of the Presidents Club and Second Century Society. He is a recipient of the Legion of Honor of AIME and is the founder of the National Mining Hall of Fame and Museum. He is a member of numerous professional organizations including SME, AIME, Society of American Military Engineers, Nevada Mining Association, Mining Club of New York City, and is listed in Who's Who in Finance and Industry.
From 1996 Induction to the Geological and Mining Engineering and Sciences Academy