Lee E. Blodgett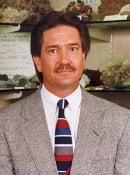 BS Geological Engineering 1976
Lee received his BS degree in Geological Engineering from Michigan Technological University in 1976. He then spent twelve years working for the Dowell Division of Dow Chemical Company where he was District Manager, first in Michigan and then in Southern Oklahoma. At this time, he also had responsibility for environmental compliance. Lee then left and went to work as Director and Manager for Eastern Reservoir Services as part of a research team studying the Gas Research Institute's Antrim Shale Project.
During the late 1980's, he went to work for Wilcox Associates as a Project Manager/Engineer for two years. Since 1991, Lee has been President of Environmental Consultants and Services, Inc. of Traverse City, Michigan, a small company that performs environmental work related to oil field production, environmental site investigations and a wide variety of remediation investigations.
Lee is also active in a wide variety of professional organizations in both oil and gas and environmental consulting areas.
From 1996 Induction to the Geological and Mining Engineering and Sciences Academy