Karl V. Lindell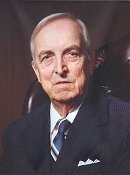 Retired Executive Vice President and Director, Hazemag USA, Inc. and Hazemag Canada, Inc.
Karl Lindell earned BS and MS degrees in Mining Engineering from Michigan Tech and holds an honorary doctorate in engineering from Michigan Tech and honorary doctorates in science from Laval University and the University of Sherbrook.
Karl is regarded as a leading international expert on asbestos mining and production, having visited most of the world's deposits of the mineral. He was General Manager of the Asbestos Fibre Division, Chairman of the Board of Canadian Johns-Manville Company, Director of Johns-Manville Corporation, and Vice-President of Operations of Johns-Manville Corporation.
He is a Life Trustee of the Michigan Tech Fund and received the 1972 Distinguished Alumnus Award. He was a member of the Century II Campaign and the MTU Deans Club. He was a member of AIME and was conferred the Legion of Honor of the American Institute of Mining and Metallurgical Engineers, and the Legion of Honor of the Canadian Institute of Mining and Metallurgy. He was bestowed by the Pope as Commander of the Order of St. Sylvestre. He is a Fourth Degree Knight. Karl is very active in several civic and service organizations.
From 1995 Induction to the Geological and Mining Engineering and Sciences Academy