Joseph A. Mandarino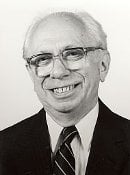 MS Geology 1951
BS General Science 1950
After graduating from Michigan Tech, Joe began working for Allis-Chalmers Manufacturing Company in Milwaukee, Wisconsin as a Mineralogist. In 1957, after spending time in the air force and receiving his Ph.D., he returned to Michigan Tech as an Assistant Professor of Mineralogy. In 1959 Joe moved to the Royal Ontario Museum in Toronto. He was hired as Associate Curator of Mineralogy and advanced to Curator-in-Charge of Mineralogy.
In 1980, he voluntarily relinquished the Headship to spend more time on research and teaching. He was Acting Associate Director Curatorial from 1990 to 1992 and retired from the museum in 1994. Joe served as President of the Mineralogical Association of Canada for 3 years from 1973 to 1975, and as Chairman of the Commission on New Mineral Names of the International Mineralogical Association from 1983 to 1993.
Joe graduated from Michigan Tech with a B.S. in General Science (emphasis on Geology) in 1950 and an M.S. in Geology in 1951. Joe received his Ph.D. in 1958 from the University of Michigan. He has received numerous honors and awards including the Elizabeth II Silver Jubilee Medal, the L.G. Berry Medalist of the Mineralogical Association of Canada, and the first recipient of the Sandor Koch Medal of the Hungarian Mineralogical Foundation.
From 2000 Induction to the Geological and Mining Engineering and Sciences Academy