John M. Hird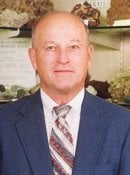 BS Geological Engineering 1961
John had a 32 year industrial career before retiring in 1993; however, he still does consulting. John began his career with Allied Chemical in Syracuse, New York as a Geological Engineer working on solution mining of salt and potash in the United States, Canada and Mexico. During this time, he was also involved in exploration and evaluation of many industrial mineral deposits.
In 1965, he went to work in the Phosphate Division of Texasgulf Sulphur Company in Aurora, North Carolina, where he was a Geological Engineer and then advanced to Mine Manager. He was involved in ground water hydrology, open cast mining, ore deposit evaluations, phosphate beneficiation plant, quality control, safety issues and reclamation. He has produced several professional papers regarding his work.
Before graduating from Michigan Technological University in 1961 with a BS in Geological Engineering and a BS in Business Engineering Administration, John attended Haileybury School of Mines.
From 1997 Induction to the Geological and Mining Engineering and Sciences Academy