John Beitzel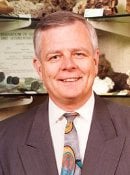 BS Geological Engineering 1961
After obtaining employment with Atlantic Richfield as a research geophysicist, John assumed positions with increasing responsibility. Eventually he became Vice President of Technology "with barely enough power (he claims) to prod the exploration portion of the company into the twentieth century with regard to computer applications." He then became Vice President of Exploration for the Eastern United States focusing primarily on the Gulf of Mexico Basin, on- and off-shore, where early goals were always exceeded.
John served on various non-profit boards, two of which he continues to serve. He was founding Chairman of the Board of the Collin County Community College Foundation and served on the Charter and the Planning Commissions for the City of Richardson, Texas, as well as assorted Chamber of Commerce Committees. John also serves on the Michigan Tech Fund Board of Trustees and an Industrial Advisory Board at Michigan Tech.
John graduated from Michigan Technological University in 1961 with a BS in Geological Engineering, received an MS degree in Geophysics from the California Institute of Technology and a Ph.D. in Geology from the University of Wisconsin.
From 1996 Induction to the Geological and Mining Engineering and Sciences Academy