Jo Kalliokoski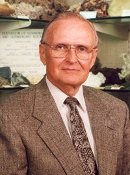 Jo Kalliokoski was born in Finland, but moved to Timmons, Ontario and attended the University of Western Ontario where he received his BS in 1947. He then went to Princeton for his PhD, which he received in 1951.
Jo was a geologist for the Geological Survey of Canada until 1953 and then went to work for Newmont Exploration until 1956. He joined the faculty at Princeton University from 1956 until 1968, when he came to Michigan Tech to be the head of this department.
During his time as head, the department changed and a large number of our existing faculty were hired (including yours truly!). The department broadened, the geophysics program joined our department, and the committment to research and the graduate program was greatly strengthened. Jo was a tremendous advocate for us as young faculty facing a university that didn't seem ready for us. (they still aren't ready for us!). He managed to keep encouraging us to do creative things when much of the rest of the university did not seem to care. They were crucial years in our development, and were made possible because Jo took a lot of the heat, and made sure we had good support and good working conditions.
Jo was the Business editor of Economic Geology Publishing Company from 1971-77. He maintained his reasearch and teaching interests in Precambrian geology and mineral deposits and developed a very beneficial cooperative program with Venezuela during his time as department head. He served and reshaped our department for 20 years until he retired in 1988.
We are fortunate that he still lives in town for part of the year, and spends a lot of time with us. Jo and Saara have three children and 4 grandchildren.
From 1995 Induction to the Geological and Mining Engineering and Sciences Academy