F. James Knight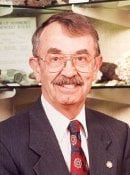 BS Geological Engineering 1959
Jim has 33 years of experience at Gannett Fleming in Harrisburg, Pennsylvania where he is currently a Senior Vice President and a member of the firm's Board of Directors. His experience includes water resource planning, landfills and contaminated site remediation, geotechnical and geological studies, mineral investigations and development, and dam and flood control works engineering.
Jim is a Professional Engineer in Pennsylvania and Arizona and a Professional Geologist in Pennsylvania, Delaware, Indiana, North Carolina, Virginia, and Florida. Jim has served his profession as a member of the Board of Directors of the National Society of Professional Engineers, President of the Pennsylvania Society of Professional Engineers, and President of the Harrisburg Area Geological Society. Jim has also served the community as a member of the Boy Scout Troop Council and the Swatara Township Planning Commission. He was honored as Engineer of the Year, Harrisburg Chapter, of the Pennsylvania Society of Professional Engineers in 1993.
After serving in the Army, Jim graduated from Michigan Technological University in 1959 with a BS in Geological Engineering followed by an MS in Geotechnical Engineering from the South Dakota School of Mines and Technology in 1963.
From 1996 Induction to the Geological and Mining Engineering and Sciences Academy