Jeffery C. Nuttall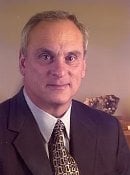 MS Geology 1968
BS Geology 1967
Jeff began working for Texaco, Inc., in 1968 as an oil and gas Exploration and Development Geologist in east Texas, south Texas, and the upper Gulf Coast of Texas. In 1974, he moved to Mesa Petroleum as Senior Geologist and was responsible for development and exploration in offshore Texas and Louisiana, and for all onshore activities from south Texas to Florida.
After 4 years with Mesa, Jeff began working for American Coastal Energy, first as Senior Geologist and later as Vice President of Exploration and part owner. His primary responsibility was developing and overseeing exploration in the Frio-Vicksburg trend in the upper Gulf Coast of Texas. In 1994, he formed Vicksburg Petroleum, Inc. and is currently President and owner. Jeff's company focuses on the Frio-Vicksburg trend.
Jeff graduated from Michigan Tech with a B.S. in Geology in 1967 and an M.S. in Geology in 1968. He is also an avid mineral collector.
From 2000 Induction to the Geological and Mining Engineering and Sciences Academy