Jean E. Zimmer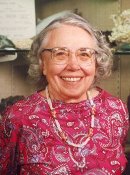 Jean Petermann Zimmer was born in Calumet and graduated from Calumet High School in 1935. She attended Michigan Tech from 1935 to 1939 when there were 13 women and 600-800 men. When AE Seaman died in 1937, Jean, with pay from the NYA assistance of $10/month, became secretary and museum assistant to K. Spiroff. In 1939 she received her BS degree and was the first recipient of the "Key Award" to the year's outstanding graduate.
Jean then went to the University of Michigan where she received an MS degree in mineralogy in 1940. She became an instructor in mineralogy at Michigan Tech from 1940 until 1943. She was married in 1941 and began a family with four children, three of whom now live in Alaska (one is a Michigander). In 1946 the family moved to Sault Ste Marie where they lived until 1967.
Jean then became Assistant Curator of the Seaman Mineral Museum here in Houghton, working under K. Spiroff. From 1975 until 1986, during the momentous and very challenging period of the relocation of the museum into the new EERC building, Jean was the Museum Curator. Her service to Michigan Tech was diverse and extensive as an instructor in summer and night classes and a variety of museum activities. In addition to her four children (two of whom are Michigan Tech graduates), Jean has seven grandchildren and two great grandchildren.
From 1995 Induction to the Geological and Mining Engineering and Sciences Academy