James S. Westwater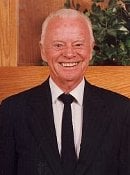 Honorary PhD Engineering 1975
BS Mining 1934
Retired Sr. Vice President, Operations, Cleveland-Cliffs Iron Company
James Westwater earned a BS in Mining Engineering in 1934 from the Michigan College of Mining and Technology and received an Honorary Doctorate of Engineering from Michigan Tech in 1975.
After graduation, he served two years as a drilling and blasting engineer with the U.S. Army Corps of Engineers. He then went on to several engineering positions including an exploration project in Chuquicamata, Chile. In 1941, he joined Cleveland-Cliffs Iron Company which began a distinguished 38-year career. He served in various positions including Manager of Mines in Ishpeming, MI from 1941-58 and Vice President of Mining from 1958-70. During this time he also served as the Director of the Iron Ore Division of the Emergency Minerals Administration of the U.S. Department of the Interior. He became Senior Vice President of Cleveland-Cliffs in 1970, where he served until his retirement. He continues to serve CCI as a consultant.
He has received numerous awards from Michigan Tech including the Board of Trustees Silver Medal in 1968 and the Distinguished Alumnus Award in 1978. He is a member of the Presidents Club, Alumni Association Board of Directors, Century II Campaign Task Force and is a Michigan Tech Fund Life Trustee. The Westwater Chair in Mining Engineering is named in his honor. His extensive involvement with the scouting movement earned the Silver Beaver award in 1946 and he is a member of the Executive Board of the Greater Cleveland Council of the Boy Scouts of America. He is also a Trustee of the Lakewood Hospital in Ohio. He is a member of the American Iron and Steel Institute, the Newcomen Society, and received the William Lawrence Sawnders Gold Medal and Distinguished Member Award of AIME in 1980.
From 1996 Induction to the Geological and Mining Engineering and Sciences Academy