James Wark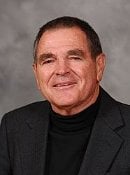 BS Geological Engineering 1954
BS Mining 1954
While working toward his bachelor's degree at Michigan Tech, Jim also worked as an underground copper miner in Ahmeek, MI. After earning his B.S. degrees in Geological Engineering and Mining Engineering in 1954 he spent four years with the U.S. Navy as a Naval Aviator. Following this he went to work for CF&I Steel as a mining engineer in Colorado and Utah. He later became CF&I's Manager of Mines. Beginning in 1984 he was President of Evergreen Land and Resource Company.
In 1990 he started his own company, AirPhoto – North America, which combined his interests in geology, photography, and aviation. Airphoto furnishes aerial photography of North and Central America to publishers and other image users worldwide. In 2006 Jim was awarded the Epson Aerial Photographer of the year award.
While at Michigan Tech, Jim was a member of Blue Key, Tau Beta Pi, Theta Tau, the Varsity Club, the Varsity and Camera Clubs, and hockey.
From 2006 induction to the Geological and Mining Engineering and Sciences Academy