James S. Magoffin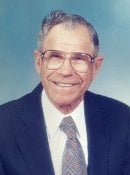 Founder, President, and Chairman Emeritus, Markair, Inc.
James Magoffin received a BS in Mining Engineering in 1941 from the Michigan College of Mining and Technology. He also graduated with a BS in Civil Engineering from the Virginia Military Institute in 1939.
He began his career as a flying instructor after graduation and went on to serve in the U.S. Air Force during World War II. In 1946, he founded an airline company in Fairbanks, AK, now named Markair, which provided bush pilot service to the gold strike areas in the late 40's and 50's, as well as into oil fields. Until his retirement in 1982, he has served as President of Operations and Chairman of Markair, Inc.
His service to Michigan Tech earned the Board of Trustees Silver Medal in 1970 and the Distinguished Alumnus Award in 1995. The Virginia Military Institute also awarded him a Distinguished Service Award in 1994. He is a member of the Presidents Club and Second Century Society. His long-standing civic commitment to the State of Alaska earned the Alaska Small Businessman of the Year Award in 1966 and he is the founder of the Alaska Pioneer Air Museum in Fairbanks, AK. He is the author of the book, "Triumph Over Turbulence - Alaska's Luckiest Bush Pilot", 1994.
From 1996 Induction to the Geological and Mining Engineering and Sciences Academy