L. Jack Gunter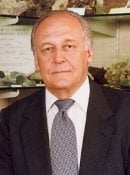 BS Geological Engineering 1965
After graduating from Michigan Tech in 1965, Jack worked in Canada's far north doing underground mining and surveying. From 1966 to 1974, he worked for Phelps Dodge and worked his way up to becoming Manager. Jack directed Canada wide exploration, where he found the La Gauchiere Cu-Zn deposit in Quebec. During this time, he was also a consultant in the Eastern United States and South America.
His 37 year career as a mineral industry executive was particularly highlighted from 1974 to 1989, when he served with the Rio Tinto Group as Head of Rio Tinto Finance and Exploration, Ltd. and RTZ Consultants, Ltd. Jack's team found and evaluated Brazil's Morro do Ouro mine, and Jack advised headquarters on many international acquisitions and operations. He was the Executive Chairman of several wholly owned operating companies.
Since 1989, Jack has stepped back from the big company life to do international consulting. He has founded two public mineral companies, the most current of these is European Gold Resources where he is President and CEO. The company is currently developing gold mines in Ireland and Portugal.
Jack came to Michigan Technological University from Haileybury School of Mines, where he received a Mining Technology Diploma in 1962. He then received his BS degree in Geological Engineering from Michigan Tech in 1965. Jack also did postgraduate studies in economics and international finance at McGill University in Canada and the University of Witwatersrand in South Africa.
From 1997 Induction to the Geological and Mining Engineering and Sciences Academy