Hilary G. Dussing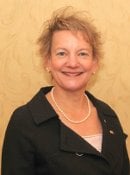 BS Geological Engineering 1979
Hilary graduated from Michigan Tech in 1979 with a Bachelor of Science degree in Geological Engineering.
Upon graduating, Hilary held numerous technical and executive positions in the Petroleum business with various companies including Tenneco Oil Company, Champlin Petroleum Company, Union Pacific Resources, Tom Brown Incorporated and Royal Dutch Shell. She has worked in the U.S., West Africa, Europe and Russia.
In addition to her Michigan Tech education, in 1994 Hilary completed the Program for Management Development at Harvard's Graduate School of Business.
In 2005, she joined Todd Energy in Wellington, New Zealand serving as General Manager, Exploration and Production for the firm. Todd Energy was founded in 1885 and is the largest domestically owned energy provider in New Zealand. They provide energy from sources such as oil, natural gas, condensate and LPG for both residential and industrial customers. They also provide expertise in the fields of electricity, real estate, private equity investment and minerals. The company was the first indigenous oil company in New Zealand. Hilary just recently retired from Todd Corporation.
As a student, she was a member of the Michigan Tech Student Foundation, Tau Beta Pi and Phi Beta Sigma. She was also a member of the Women's Tennis Team, the Varsity Club and Inter Varsity Christian Fellowship. She was runner up in the 1978 Winter Carnival Queen contest and was selected Miss Congeniality.
Her professional memberships have included the Independent Petroleum Association of Mountain States (IPAMS), the American Association of Petroleum Geologists, the Rocky Mountain Association of Geologists, the Petroleum Club and Wildcatters Club—both of Fort Worth, Texas—and the Society of Women Engineers.
In 2004, Hilary was inducted into Michigan Tech's Geological Engineering and Sciences Academy.
Hilary and her husband, William, currently make their home in Colorado Springs, Colorado.
In 2014, in recognition of her significant achievements, Hilary was inducted into the Presidential Council of Alumnae. This profile appeared in the induction program, September 19, 2014.