Harold R. Fitch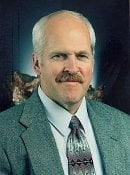 Hal began his career as a geologist with the U.S. Geological Survey in Denver, Colorado where he performed geologic mapping and mineral resource evaluation for two years. He then returned to his home state and joined the Michigan Geological Survey where he worked as Field Inspector, Groundwater Specialist, and District Supervisor.
In 1996, Hal became Chief of the Geological Survey Division of the Michigan Department of Environmental Quality. As Chief, he is responsible for assuring the conservation and efficient development of mineral resources and for protecting property, natural resources, the environment, and public health and safety throughout the State of Michigan.
In 1972, Hal received a B.S. in Geology from Michigan Tech. He spent two years at the University of Arizona completing graduate work in hydrology.
From 1999 Induction to the Geological and Mining Engineering and Sciences Academy