Gregory A. Johnson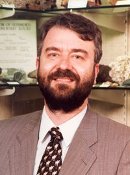 BS Geological Engineering 1983
Greg began his professional career as a project geological engineer for Buchart-Horn of York, Pennsylvania. He then served as a senior geological engineer at W W Engineering & Science of Grand Rapids, Michigan and then as division manager of Sundberg Carlson Associates of Marquette. In 1991, Greg opened MJ Environmental Consultants, Inc. of Marquette where he serves as President.
Throughout his career, Greg has published several articles on groundwater, subsurface mapping, and pollution. He has presented these papers at several conferences and symposiums, some internationally. Greg is an avid fisherman and runs a charter boat on Lake Superior out of Marquette.
Greg graduated from Kellogg Community College in 1978 with an Associate Degree in General Studies-Environmental Science. He earned a BS in Geological Engineering from Michigan Technological University in 1983. This was followed by post-graduate studies in groundwater modeling at Western Michigan University and an MS in Business Administration at York College in Pennsylvania.
From 1996 Induction to the Geological and Mining Engineering and Sciences Academy