Gordon E. Frantti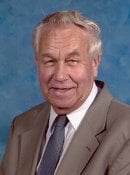 MS Applied Geophysics 1954
BS Engineering Physics 1953
Gordon Frantti retired from Michigan Tech in 1991 as Professor of Geophysics and Head of the Department of Geological Engineering, Geology, and Geophysics. While at Michigan Tech, Gordon also held the following titles: Assistant Professor of Geophysics; Associate Professor of Geophysics; Professor of Geophysics; and Acting Head. During that time, he taught various courses in geophysics. Gordon and Loyal Bacon, a fellow faculty member and a member of our academy, wrote a manual used for many years for the field geophysics course.
From 1960-1965, Gordon worked toward his Ph.D. at the University of Michigan while holding teaching and research positions there. Before he was able to complete this, the U.S. Department of Defense deemed his work on geophysical signals from underground nuclear explosions as classified. Prior to this, he worked for Copper Range Company, Cleveland-Cliffs Company, and the U.S. Bureau of Mines. Gordon has also been a consultant to numerous organizations, a member of professional societies, and Director of IRIS, Incorporated Research Institutes for Seismology. He is currently a Registered Geophysicist with the State of California and has over thirty professional publications and as many published technical reports.
Gordon Frantti graduated from Michigan Tech with a BS in Engineering Physics in 1953 with honor and MS in Geophysics in 1954. He served as the administrative leader of the department for 10 years and he currently holds the title of Professor Emeritus.
From 2001 Induction to the Geological and Mining Engineering and Sciences Academy